2023 camps
Mark 10:13-16
And they were bringing children to him that he might touch them, and the disciples rebuked them. But when Jesus saw it, he was indignant and said to them, "Let the children come to me; do not hinder them, for to such belongs the kingdom of God. Truly, I say to you, whoever does not receive the kingdom of God like a child shall not enter it." And he took them in his arms and blessed them, laying his hands on them.
2022 Summer Camp Favorite Moments
We do what we do for God's glory and for the edification of His Church.
2023 Summer Camp Countdown!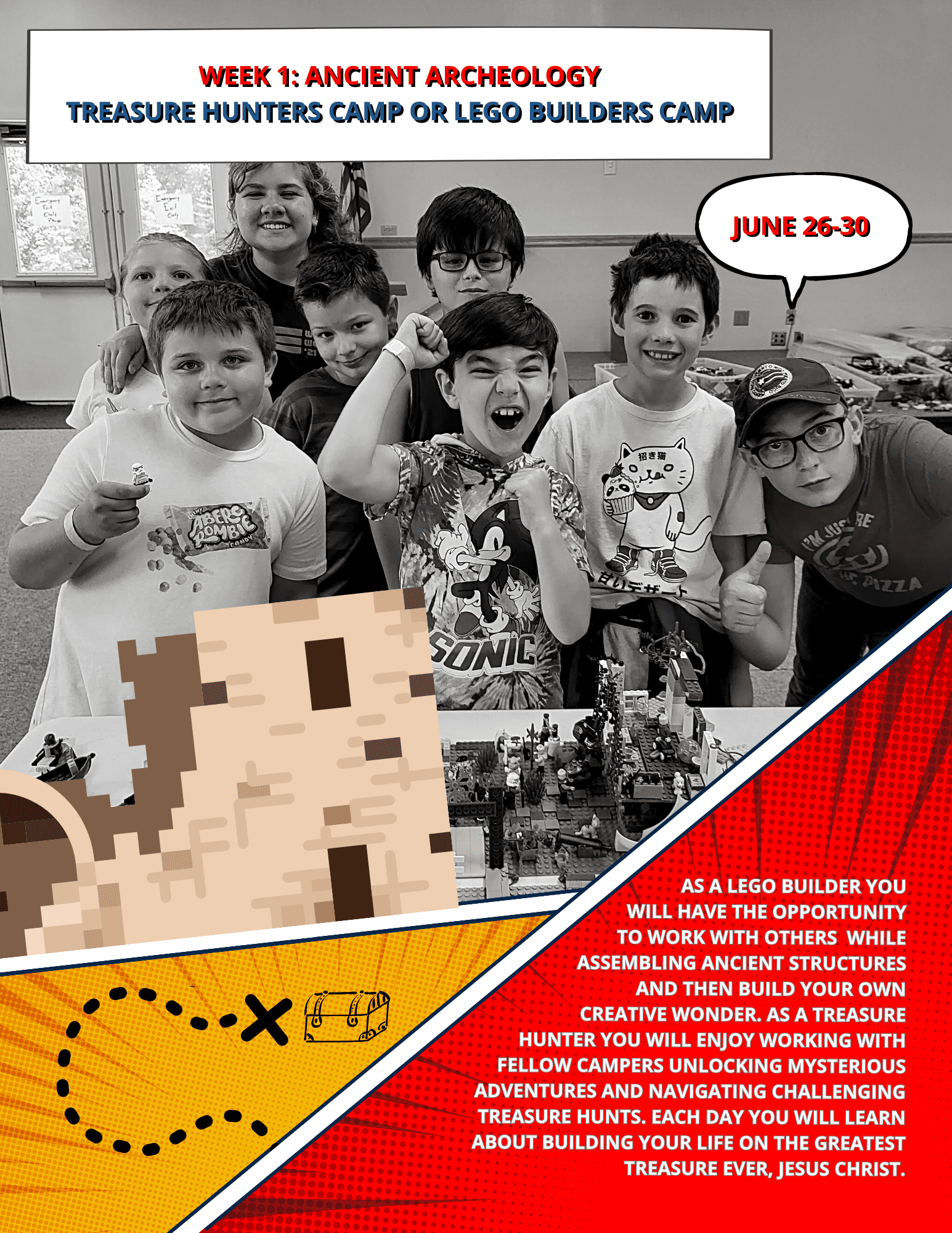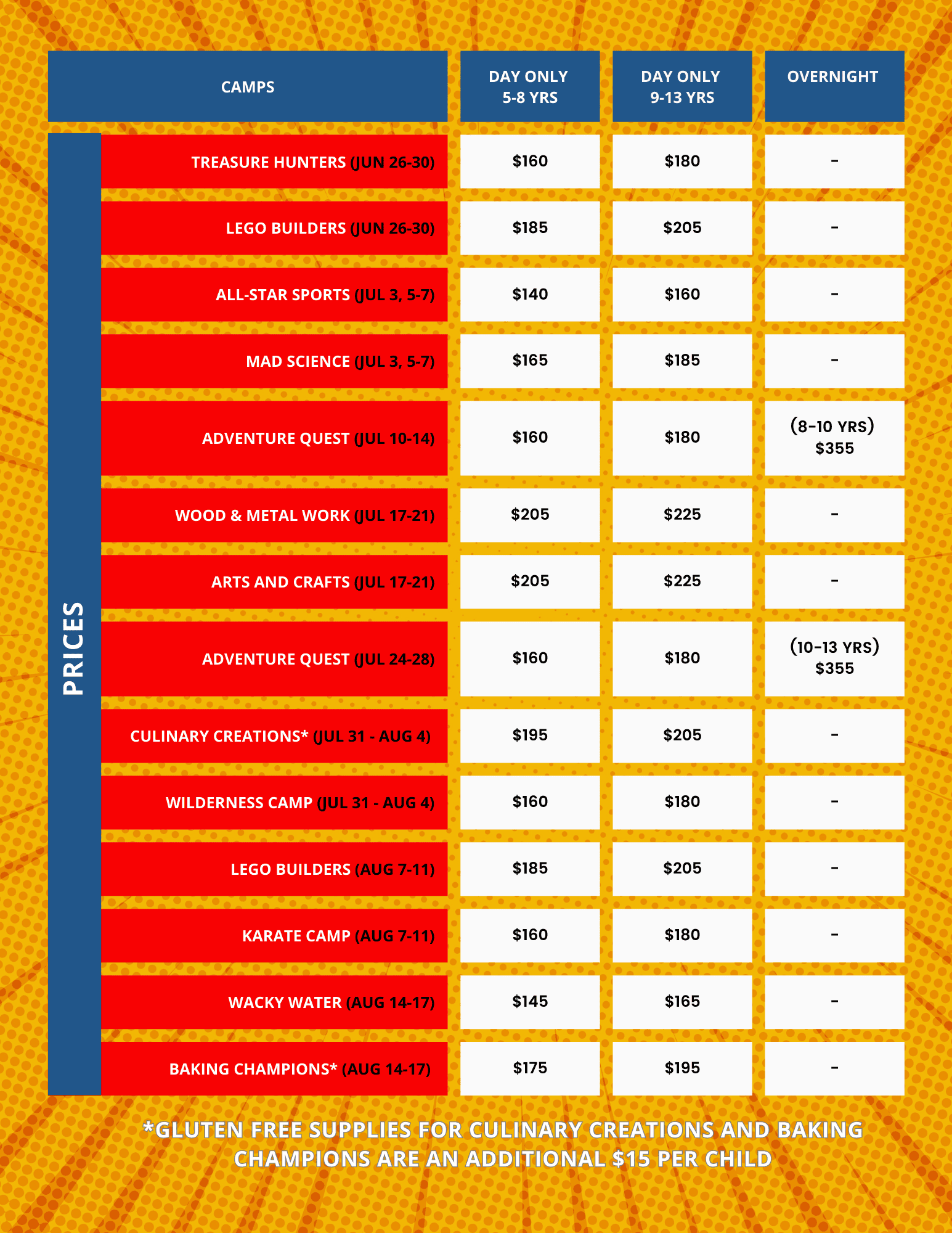 June 26-30: Ancient Archeology Theme Treasure Hunters or LEGO Builders
As a Treasure Hunter you will enjoy working with fellow campers unlocking mysterious adventures and navigating challenging scavenger hunts.  As a LEGO builder you will have the opportunity to work with others while assembling ancient structures and then building your own creative wonder.  Each day you will learn about the greatest treasure ever, Jesus Christ.
July 3, 5-7 (no July 4): Space Odyssey Theme All Star Sports or Mad Science
As an All Star Sport athlete you will practice skills and drills of some of your favorite sports (basketball, football, soccer) and then participate in some unique sporting games that are a bit out of this world.  As a junior Mad Scientist you will have an absolute blast as you engage in mind-blowing, hands-on experiments.  This week you will grow in your knowledge and love of God, the creator of the universe.
July 10-14: Battles in the Colosseum Theme Adventure Quest Day or Overnight*
During this week, as a camper you will travel back to Ancient Rome and take part in battling in the Colosseum. You and your team will engage in some friendly team competition through various adventure activities.  Most importantly, you will leave this week with a deeper understanding of our awesome God and how following Him is the greatest adventure.
*The overnight camp option this week is only available for campers ages 8-10 years old, this will include activities such as additional adventures, evening bonfires, and a greater opportunity to connect with counselors and fellow campers while learning even more about God's amazing love.
July 17-21: The Gift of Art & Creativity Theme Arts and Crafts or Wood and Metal
As an Arts and Crafts camper you'll have the opportunity to use your creativity to make some wonderful crafts and art masterpieces.  As a Wood and Metal camper you will engage in this unique and fun hobby while creating wood and metal projects. This week, as you are creating, designing and building, you'll gain a deeper understanding and appreciation for our wonderful Creator who made us all so special.
July 24-28: Pioneers of the West Theme Adventure Quest Day or Overnight*
Grab your cowboy hat and boots and get ready for a ride back to the wild west in our second adventure camp this summer.  Get ready to defend your "homestead" from your fellow campers while having an absolute blast.  Each day you'll grow in your knowledge of the one true God who will always be our great protector.
*The overnight camp option this week is only available for campers ages 10-13 years old, this will include activities such as additional Great Frontier fun, evening campfires, and time for deeper connection with counselors and fellow campers all while learning more about the one true God. 
July 31 - August 4: Back to the Garden Theme Culinary Creations or Wilderness Outdoors
In Culinary Creations, you will learn how to grow and gather fresh foods, then properly prepare delicious and nutritious meals to enjoy.  As a Wilderness Outdoor camper, you will obtain a greater respect and appreciation for God's creation while learning valuable life skills for navigating in the great outdoors while participating in thrilling, adventurous games.  This week, you will gain a better understanding of how to be spiritually nourished in order to blaze the trail God has called you on.
Aug. 7-11: Defending the Kingdom Theme Karate or LEGO Builders
As a Karate camper you will learn to defend yourself and your faith.  Practice important skills and techniques to help protect yourself and others.  As a LEGO camper, you will build your kingdom and defend it against sneaky invaders. Both of these camps are sure to help strengthen and encourage you in knowing and defending your faith!
Aug. 7-11: Special Wacky Water Addition
Due to the overwhelming response and popularity of Wacky Water, we're adding a extra session for 9-13 year old campers this week!  As a Wacky Water camper you won't stay dry for long.  You'll be having a blast playing of water games and also learn proper techniques and water safety while enjoying time floating on the water.  
Aug. 14-18: Deep Sea Expedition Theme Wacky Water or Baking Champions
In Baking Champions you will learn baking skills and tips while creating some delicious sea creature treats.  As a Wacky Water camper, you will learn proper techniques and water safety while enjoying time splashing and floating on the water.  You will also have the opportunity to dive deep into God's Word and learn more of His amazing love. 
Each week, along with the primary activity, campers will also be participating in many other fun and exciting activities such as group games, swimming, Bible time, gaga ball, visiting The Purple Moose snack shop and more.  Camp begins at 9am and ends at 3pm, lunch and a mid-morning snack is provided.
Summer Kids Camp Cancellation Policies
1. If we cancel any event for any reason you will receive a full refund including the deposit for that specific camp.
2. If NYS or the Health Department implement mandates that cause conflict or conviction and you cancel your youth's registration we will give a full refund, including deposit, up to the date the law or mandate goes into effect.
3. If you register after the date a law or mandate goes into effect and decide you do not wish your child to attend due to the mandates then our standard cancellation policy will apply.
     150 Days out: Full refund, not including deposit
      120 Days out: 50% of the total due refund, not including deposit
       90 Days out: No refund will be issued
"You all did a fabulous job with the camp, especially given all the restrictions you had to follow.  Thank you for letting our daughter, Karleigh, participate for a couple of days as she truly enjoyed it and felt welcomed.  We already intend to plan a stay for next summer and coordinate it so she can attend camp again.  Thanks so much for all your efforts as we are blessed by you all and pray for continued success with the camp and all it's programs!"
"The experience for our son was fantastic!  Your counselors (specifically "T") were positive influences and made his time there memorable."