Meeting Facilities
A space for everyone
The Cove and Recreation Hall
The Cove is a mid-size meeting space, available year-round. Located at the front of the Rec Hall, overlooking the waterfront, the Cove offers comfortable seating for 75 in rows, theater-style, or approximately 35 at tables, and is ideal for teaching sessions, seminar workshops or small-group breakout sessions. The Cove is handicap-accessible, via the rear Rec Hall entrance, but does not offer handicap bathroom access. In 2017, the Cove floor was refinished, and additional upgrades to basic sound equipment, including a new screen and digital projector were also added.
The Recreation Hall offers carpet ball, ping pong, a pool table, foosball, a snack shop, cafe tables, and a small seating area with a few couches.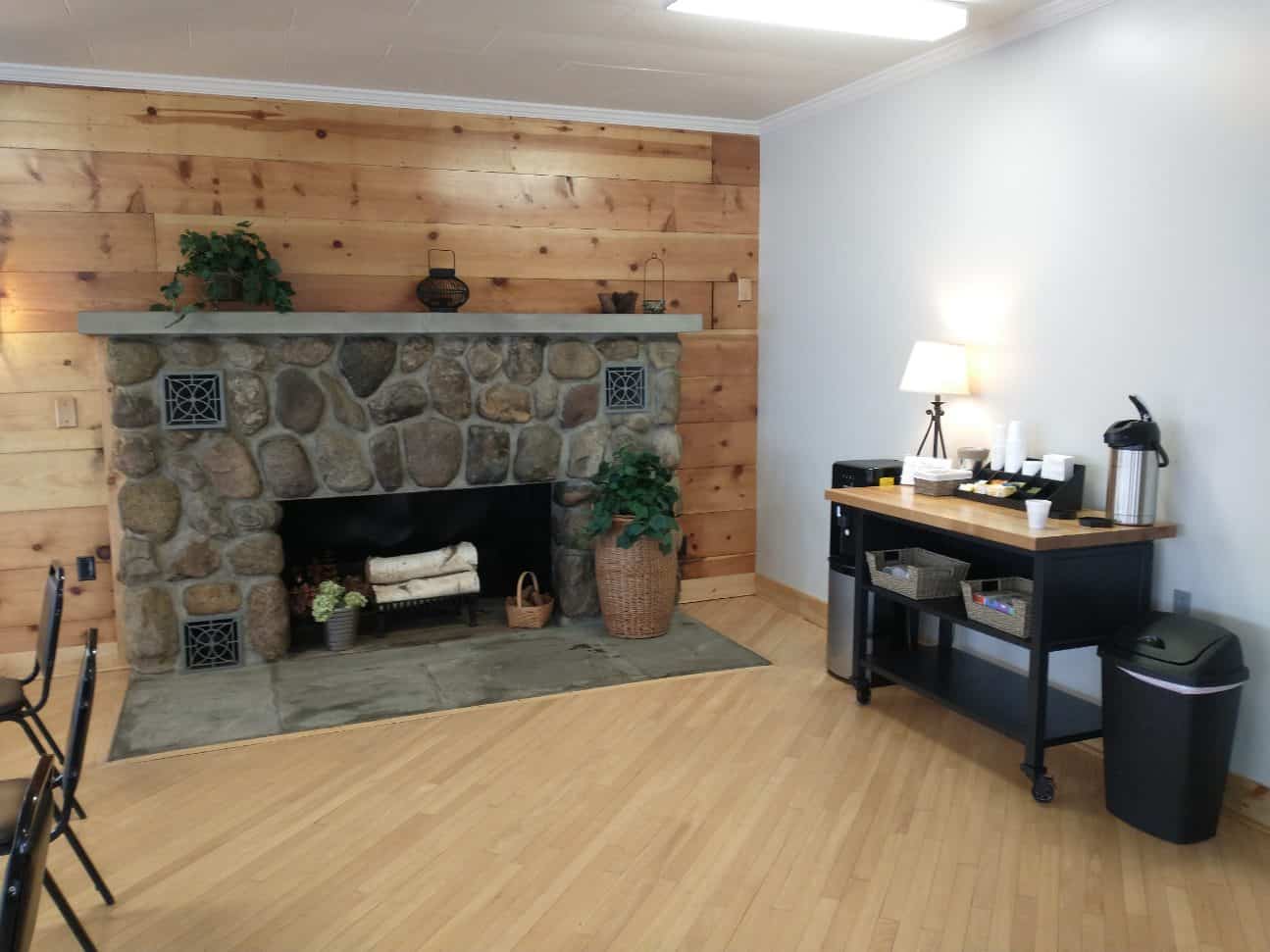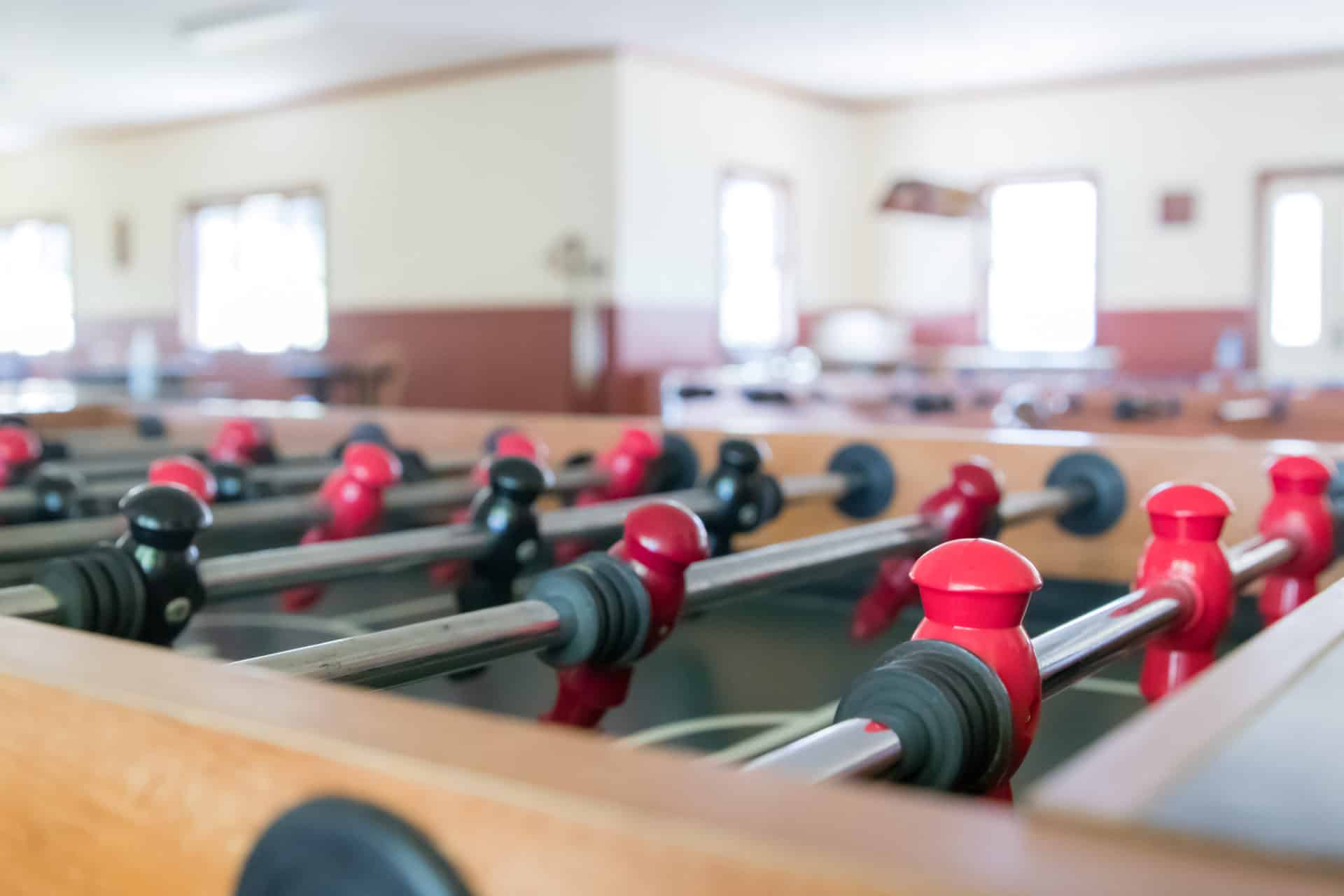 The Dining Hall

 
The Dining Hall is a large-group meeting space, for events, and/or dining. It is available year-round. With new carpeting, interior decoration and other minor improvements, the multi-purpose Dining Hall and Commons offers ample seating for groups of up to 300 at circular tables, or gatherings of approximately 350 seated in rows. Several of our groups also make use of six-foot or eight-foot rectangular tables for quilting, scrapbooking and similar workshop activities, in a setup which can comfortably accommodate 50 artisans. In addition, retail display or trade-show/conference setups can be accommodated in the Commons and adjacent entrance hall, with approximately 32 vendors staged at six-foot or eight-foot tables or booths set in rows or lined around the building's perimeter.
A mid-size platform at the north end of the Commons is staged with a podium and patio set and can still accommodate a small worship team, along with specialty décor. A piano faces the stage at ground level so pianists can accompany leaders and other vocalists. An overhead digital projector and built-in screen are available, and microphones and a sound board to enable music performances are also available.
Thanks to a special donor, we have also added a gift shop at the south end of our Dining Hall Building.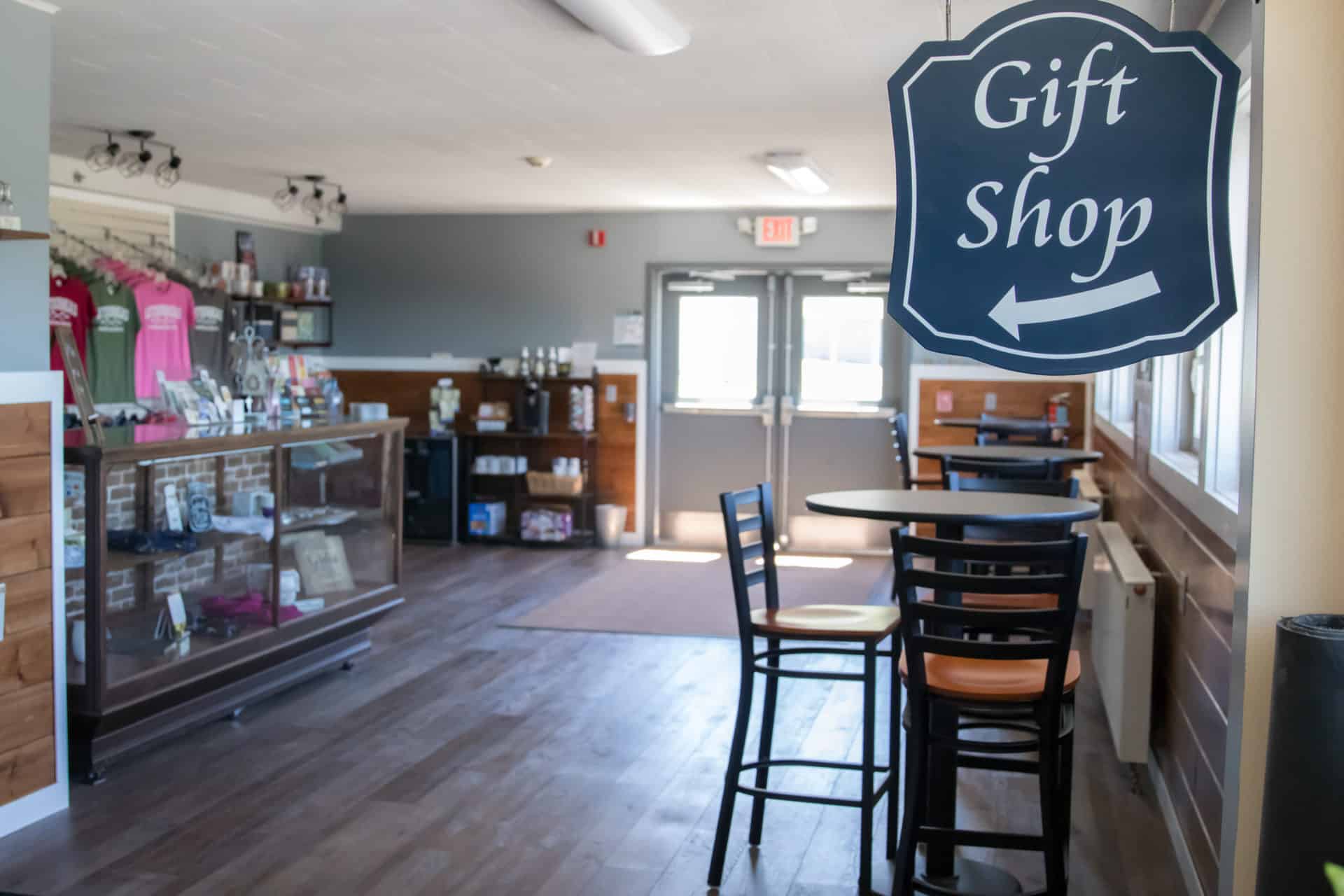 The Tabernacle
Accessible to guests from April – October, our revival-style Tabernacle offers seating for approximately 325 on classic wooden pews. Two side sections, with corresponding aisles, and a central seating area on an incline providing excellent views of the stage from nearly every seat. With open-air entries and roofed patios on both sides and the rear of the building, the Tabernacle permits cross-flow of air to keep guests cool in the summer conference season.
The wide, front stage, redesigned in 2017 with hardwood flooring, is large enough to host multiple members of a worship band, their instruments and electronics, and can easily accommodate skits and group activities. The entire building has had an electronic upgrade with new wiring, speakers, sound booth, lighting, and a digital projector to accommodate large-scale worship events, concerts, or theatrical presentations. An adjacent side storage room makes for an easy side entrance when the activity calls for an element of surprise.
The stage is even large enough to accommodate small meeting groups of about 20-25, seated, if your group's event programming calls for a small breakout meeting or workshop.
Spacious, contained restrooms and showers for men or women are located about 50 feet away from the Tabernacle.
The Classroom
A few steps from the Tabernacle is our completely reconstructed Classroom building, which was completed in 2017. The classroom has heat available for the winter months and is fitted with a white board, large television and/or projector when needed. It also has a small porch from which to enjoy the gorgeous view of the lake. The open space within accommodates seating for 32 or seating at tables for approximately 20. The Classroom is available for use throughout the entire year.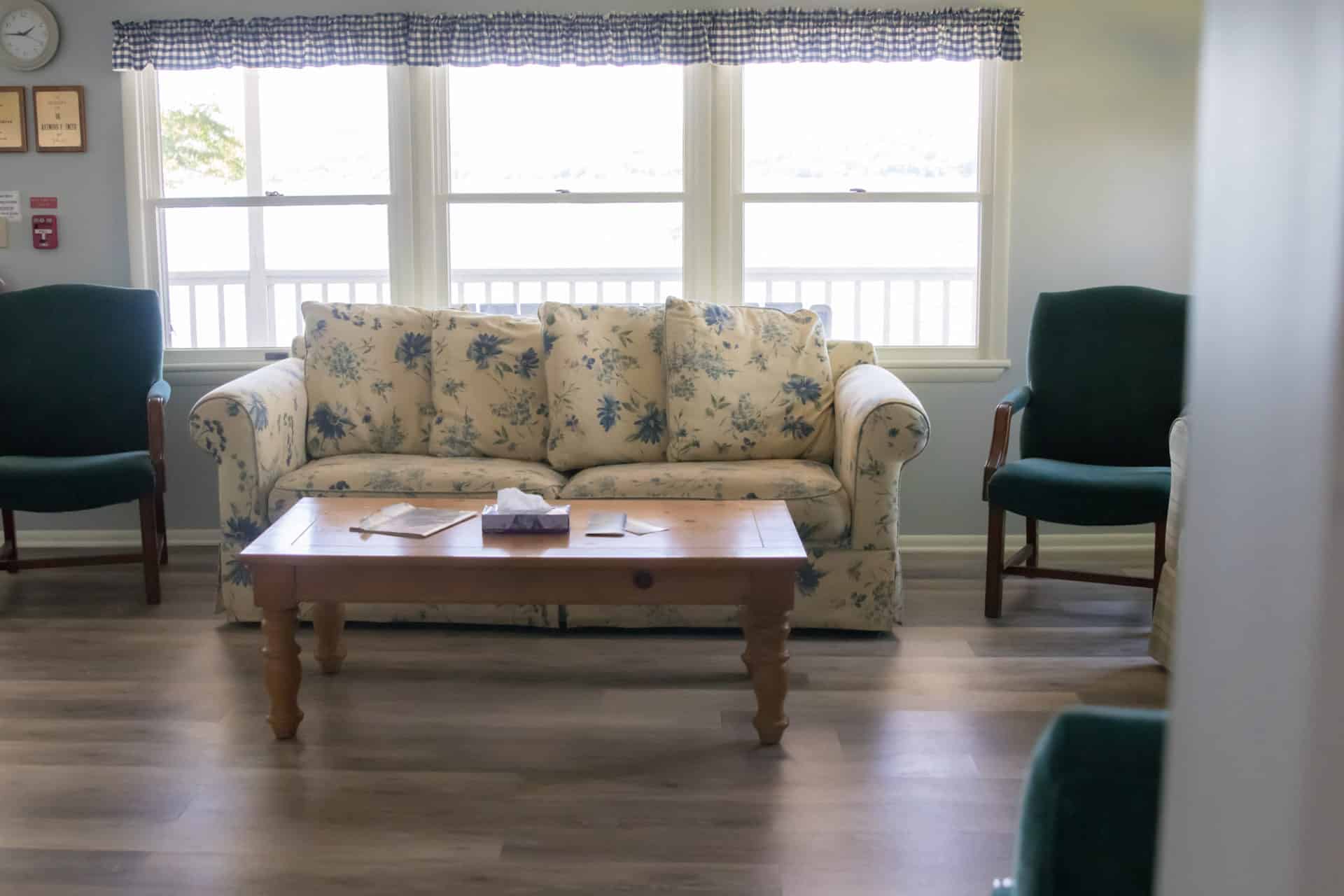 The Bethany House Common Area
Serving alternate purposes, our Bethany House common area can comfortably seat small groups of a dozen or less. Partial couch seating can be moved aside for a table or two and chairs staged for cozy, intimate gatherings. Please note, this space is not handicap-accessible.
Bathrooms (and showers) in Bethany House are located on the second-floor.
The Lodge Common Area
At the north end of the first floor of our Lodge, the two-part Common area can accommodate around 20 people at small tables suitable for seminars, workshops, meetings, or hands-on craft activities, or in the living-room style area. There is also a small kitchen attached. The living room side is suitable for small group Bible studies or discussions and provides a homelike atmosphere.
The Lodge Common Area is handicap-accessible and handicap bathroom facilities are just through the hallway on the first floor.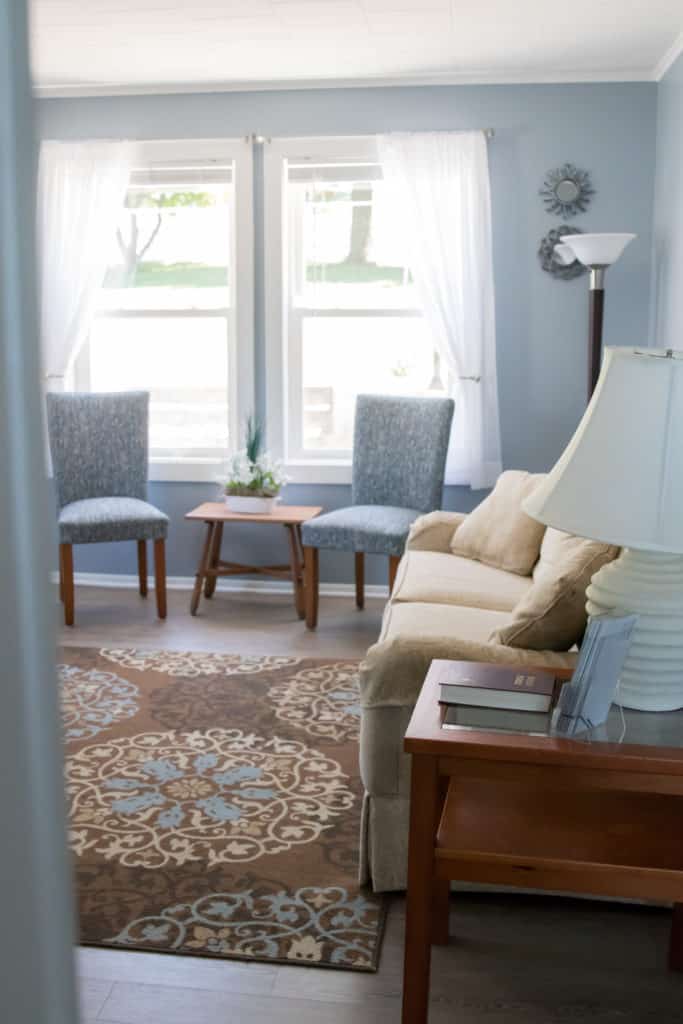 Outdoor Options
Fire Places: Woods, Lakeside, Basketball Court
Bring your group together for quiet times of worship, reflection, teaching, or testimony at any of our two Fire Pit/Bonfire locations. 
A fire pit is located to the left of our waterfront area, near the boat dock. Nearby picnic tables and benches can be positioned in a circle around the fire pit to accommodate groups of up to 25. Your personal, fold-up style camp chairs or blankets may also be added, if preferred over tables and/or wooden benches or to increase seating capacity. We recommend the attendance for lakeside bonfires be limited to 35 guests. 
Just above our Basketball Court, on our multi-sloped hill, is the second Fire Pit location. This spot has the capacity to go big or small by accommodating large groups in informal, grass seating on the slopes of the hill above with great views of the bonfire below or small-scale intimacy gathered closely around the pit itself on wooden benches and/or your additional fold-up style camp chairs or blankets. We forecast large-scale, hillside seating for groups of up to 50, or small-scale, cozy and intimate seating for smaller groups.
At any of these Fire Pit/Bonfire locations, our staff will arrange to have the fire set up and crackling at the set time your group has scheduled to begin your bonfire activity. A small stack of firewood and kindling will be provided adjacent to your select fire pit for the duration of your activity. We ask that you please assign a member of your group the responsibility of tending to the fire and keeping flames in check during your gathering.  One of our staff members will come douse all embers with water as your bonfire comes to a close.